End of Summer Showoff 2010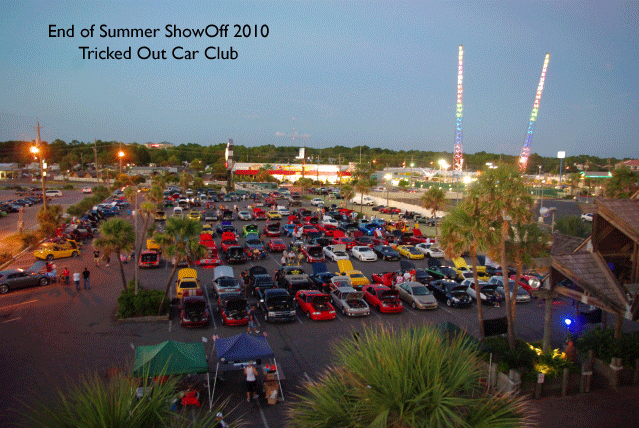 Wow! There surely were some beautiful vehicles present this year! Thank you to everyone that came out for the show.
On behalf of everyone at Tricked Out Car Club, I cannot express our thanks enough to all our wonderful community partners and friends for making our 3rd Annual End of Summer Showoff at Spinnakers Beach Club such a success! While we did not reach our goal, we came very close and had every type of automobile to enjoy, along with some bikes too! Such a variety!! Many blessings to you and to the Tricked Out Car Club members & officers who put this show on.
I hope you will give us a go next year and let us rock your world in a whole new way. TOCC is always evolving, never resting and forever rolling forward. Bring that ride out on, Saturday, September 24th, 2011, for our 4th Annual End of Summer Showoff.
September 11th, 2010 - 3rd Annual End of Summer Showoff (EOSS) Final Stats:

Total Stats

133 Registered Show Cars & Trucks, another 28 blingin' rides on the grounds but not registered.
900 People through the gates.
Handed Out $2500.00 in Goodies.
Raised $2300.00 for Local Charities - See TOCC Giveback Page.
Event Timeline: 2:30pm - 12:30am.
15 Car & Bike Clubs Present - See list below.
Many, many enthusiasts/independents.
Good Times for All!
Supporting Car/Truck/Motorcycle Clubs - Pre-Registered

Tricked Out Car Club - Panama City, Ft Walton and Alabama peeps present - All makes & models; Friendly, Respectful & Professional is the TOCC way!

BadBoyz - Pensacola, FL - Our friends from the west...rockin & rollin like Bad boyz do!

Bay Mustang Club - Panama City's dedicated Mustang club!

Legion of Doom - Panama City, FL - The finest bike 'club' around, period!

Freeport Cruisers - Freeport, FL - Friendly, family club covering all makes and models!

American Muscle Car Club - Panama City, FL - American muscle is what it is all about!

Florida Mopars - Panama City, FL - Representing Mopars and all things related to them!

Hot Wheels Car Club - Panama City, FL - Quality people, cool cars!

Emerald Coast Corvette Club - Panama City, FL - Corvettes and nothing but Corvettes!

Outlaws Car Club - Panama City - Old school club ridin' like Outlaws!

Pensacola Scikotics - Pensacola, FL - Scion only club!

Self Inflicted Kustoms - Dothan, AL - Enthusiasts cuttin' -n- hackin' to meet the rides of the driver!

NFSP Motorsports - Cool Imports rollin around the panhandle!

Christian Rods & Customs - Panama City, FL - The love of Christ & Cars!

Endless Illusions - Ft Walton -

Many Independents, Auto & Bike Enthusiasts and Sponsors from across the Southeast United States, with our longest distance traveled vehicle present from Baytown, Texas (the great states of Florida, Georgia, Alabama, Texas and Mississippi were represented).
Charities benefited from this show

American Cancer Society

Anchorage Children's Home

Animal Rescue of Bay County

Freeport Fire Department

Panama City Beach Fire Department Scholarship Fund

Panama City Pregnancy Center

Salvage Santa

Sims Veteran Home

Taunton's Family Children Home
Scroll down the page for the complete listing of community partners.
_______________________________________________________________________
Shift gears into fall with Tricked Out Car Club!

When everyone else is slowing it down and ending the busy summer season on Panama City Beach, TOCC is cranking it up to maximum velocity with a well-planned, professional car, truck & motorcycle show. Our 3rd Annual End of Summer Showoff is designed to show the whole family a wonderful time and to give you, the community of auto enthusiasts, something to remember!
For 2010, we will be giving the event some serious nitrous and kicking things up a bit, so be prepared for quite the event in 2010. For starters, Spinnaker will be open during the event with live music, tasty food & tall drinks for our guests. We will have a classed and professional run auto show with over 80 trophies and other prizes geared towards imports, domestics, euros, classics, hot rods, rat rods, specialty vehicles, trucks (hi and low), motorcycles and just about anything on wheels!
And because TOCC is about the community and quality people, we are making this show a 9/11 memorial with the Fire Department present and special honors going to the Fallen Heros & Families of First Responders and the victims of this most unfortunate tragedy of 9/11. There will be donations made to the Panama City Fire Department Scholarship Foundation, Anchorage Children's Home and a small in-kind donation to our partner club's charities as well.
This is a rain or shine event. The show will go on regardless.

What: 3rd Annual End of Summer Showoff

When: September 11, 2010 - 4:00pm -to- 9:00 pm (registration is from 2:30 pm -to- 4:00 pm).

Where: Spinnaker Beach Club - 8795 Thomas Drive, Panama City Beach, FL 32407

Pre-registration is closed. Please register at the event. *FREE ENTRY TO THE PUBLIC, $20.00 to Register/Show Vehicle*
Party all day and...party all night with the beach's finest night club, Spinnakers and the world's friendliest car Club, Tricked Out Car Club!
Detailed Timeline:

Registration - 2:30 pm -to- 4:00 pm

Show Opens: 4:00 pm, come inside or hang outside. Eat, drink, dance, vote, showoff your ride and enjoy the show. DJ Josh, Live Music, Award-Winning Food, Chilled Drinks, Contests, Door Prizes, Raffles, and More!

Car/Truck/Motorcycle show: 4:00 pm -to- 9:00 pm, Voting & Judging from 4:00 pm -to- 6:30pm

Show Awards & Closing Ceremony: 8:30 pm -to- 9:00 pm

Glow Off: 9:00 -to- 9:55 pm

Party like a Rockstar: 10:00 pm -to- 4:00 am with live music, dancing and partying all night long in the world's finest Beach Club...Spinnaker!
Award winning food, live music, dancing, and the; EOSS professional, community-driven, judged car show, with over 60 classes and 80 awards. All proceeds will go to several local charities covering Kids, Military Veterans and First Responders through our TOCC Giveback Program. We look forward to seeing our old friends...and meeting some new ones as well! Please consider attending and helping us reach our goals.
If you are a community business or individual that would like to help or be a part of this event, please contact us.
Platinum Partners

The Sleep Center - Discover sleep again! Panama City's best bedding store!

Spinnaker Beach Club - World Famous Spinnaker!

Panama City Auto Repair - From race to repairs - the only auto shop you need!
Silver Partners

Gulf Marine Inc. - Florida Panhandle's finest marine dealership and service center!

Adrenaline Rush - North Florida's best cycle shop and specialty shop!

Outlaws BBQ - Yummy food, great people!

Somethin's Cookin! - Gourmet foods prepared fresh!

Stop-Street-Racing.org - If you're serious about winning, take it to the track!

Panama City Marketplace - The Locals' Guide!

Seatow - Where Boaters Belong™!

BC4 - Bay County Car Club Coalition!

C & G Sporting Goods - 60 years of being bay County's hunting headquarters!

Paparazzi Pizza & Pasta - Authentic Italian food cooked in a brick oven!

Coastal Auto Detail - Panama City's Finest Auto Spa!

New Speed, LLC. - Racing forward to success!

MICA Specialties - Web Development & Technology Consulting for the small business and consumer!

Firehouse Lawn Care - Bay County's lawn care professionals!

Mike Reiter Attorney At Law - Fighting for your financial rights and freedoms!

Play N Trade - Where the gamers go!

Island 106 - Home of "That Guy" Kramer!

Panama City Beach Fire Department - Providing you the highest level of protection!

Playground Music Center, Inc. - Serving Musicians worldwide since 1961!

DTG Printing - Quality, professional work ~ FAST!

Eddie's Auto Body - Offering quality auto repair with reasonable prices!

97X - Panama City's Rock Station!

Mild 2 Wild Audio - Rockin' the audio scene!

Vision Bank - Your Community bank!

GM Appliance Center - Appliance headquarters and professional design center!

Sparkles Detail - Exclusive Distributor of Croftgate USA Waterless products!
Thank you for your continued support of Tricked Out Car Club and our community support efforts! Show Details Subject to Change.